10 Inch YOLOTEK Power Stick For Fishing Videos!
Posted by melvin on May 18, 2017
10 Inch YOLOTEK Power Stick For Fishing Videos: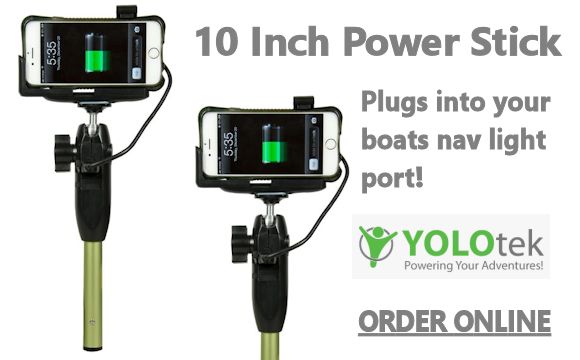 Finally, after years of filming with my gopro and ion cameras attached to my boats windshield. I have a different filming angle available to me while fishing.
An angle that will actually show my face instead of my rear! Don't get me wrong here, I know selfies are great and those same filming angles that showed my backside where cool in the beginning.
But now it's time to move on to a better view with a more dynamic camera holder. A camera holder that does not limit my choice of cameras and even holds my cell phone.
Plenty of great reasons to sell me on using the 10'' YOLOTEK Power Stick right there.
Here is what sealed the deal for me? NO MORE DEAD BATTERIES ON MY GOPRO CAMERAS, ION CAMERAS OR CELL PHONE CAMERAS!!!
That's right! The 10'' YOLOTEK Power Stick plugs into your boats nav light port and uses power from your boat batteries to run your gopro, ion and cell phone while filming. IF? You have ever been frustrated by dead batteries or lack of camera angles while filming your catch. You do have another option...
ORDER YOUR NEW 10'' YOLOTEK POWER STICK ONLINE!
Tight Lines & Heavy Limits,
Melvin Smitson 
P.S. 
Use coupon code: MELVIN for FREE SHIPPING.