Story From: www.melvinsmitson.com
Date: March 15, 2014
Three New 2014 Vintage Fishing Shoe Colors From Zeko Shoes! 
Hello Bass Fishing Fans!!! Zeko Shoes has three new fishing shoe colors for the 2014 season! I'm also very excited to announce that you can also catch a deal on all three colors by using promo code: SMITSON2015 for FREE SHIPPING while shopping online at www.zekoshoes.com 
New Fishing Shoe Color # 1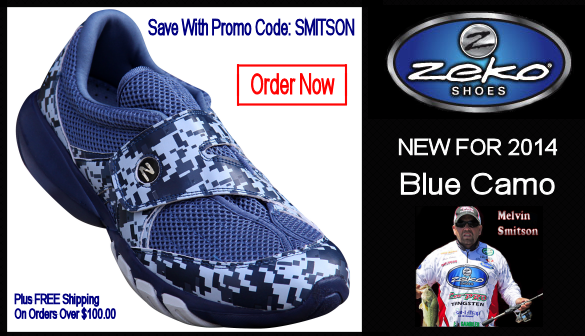 Blue Camo - Strap 'em on, Let's Go!" The Ultimate Performance Fishing shoe that has a ventilated sole that drains both air and water. Think of the brand new Blue Camo fishing shoes as an All-Terrain Vehicle for your feet. These Zeko Vintage Blue Digital Camo shoes are water resistant and have a quick-drying microfiber wicking mesh. If your a camo lover these Blue Camo shoes are for you. Pair Blue Camo up with your blue boat, blue truck and blue jersey. Get Blue Camo Fishing Shoes >
New Fishing Shoe Color # 2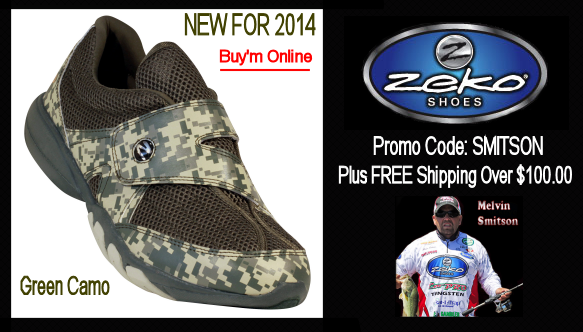 Green Camo - The velcro strap makes these new Green Camo shoes easy to put on and take off. The sturdy ventilated EVA sole keeps your feet cool and dry on the deck of your bass boat and allows even the most active bass fishermen to enjoy their day on the water. Match Green Camo up with your green camo boat, green camo truck and green camo jersey. Get Green Camo Fishing Shoes >
New Fishing Shoe Color # 3 
Red - These Red fishing shoes are feather light, making them the most comfortable shoe you will ever put on your feet. Looking good and feeling good is definitely a winning combination. Wearing these brand new Red fishing shoes would also be a nice fashion statement amongst your fellow bass fishing anglers. Combine Red with your Red boat, Red truck and Red Jersey. Get Red Fishing Shoes >
Zeko Shoes now offers over a dozen colors in their vintage fishing shoes lineup. Check them out online before your next fishing trip! Get FREE Shipping on all Zeko Shoes orders when you use my promo code: SMITSON2015. 
Tight Lines & Heavy Limits, 
Melvin Smitson